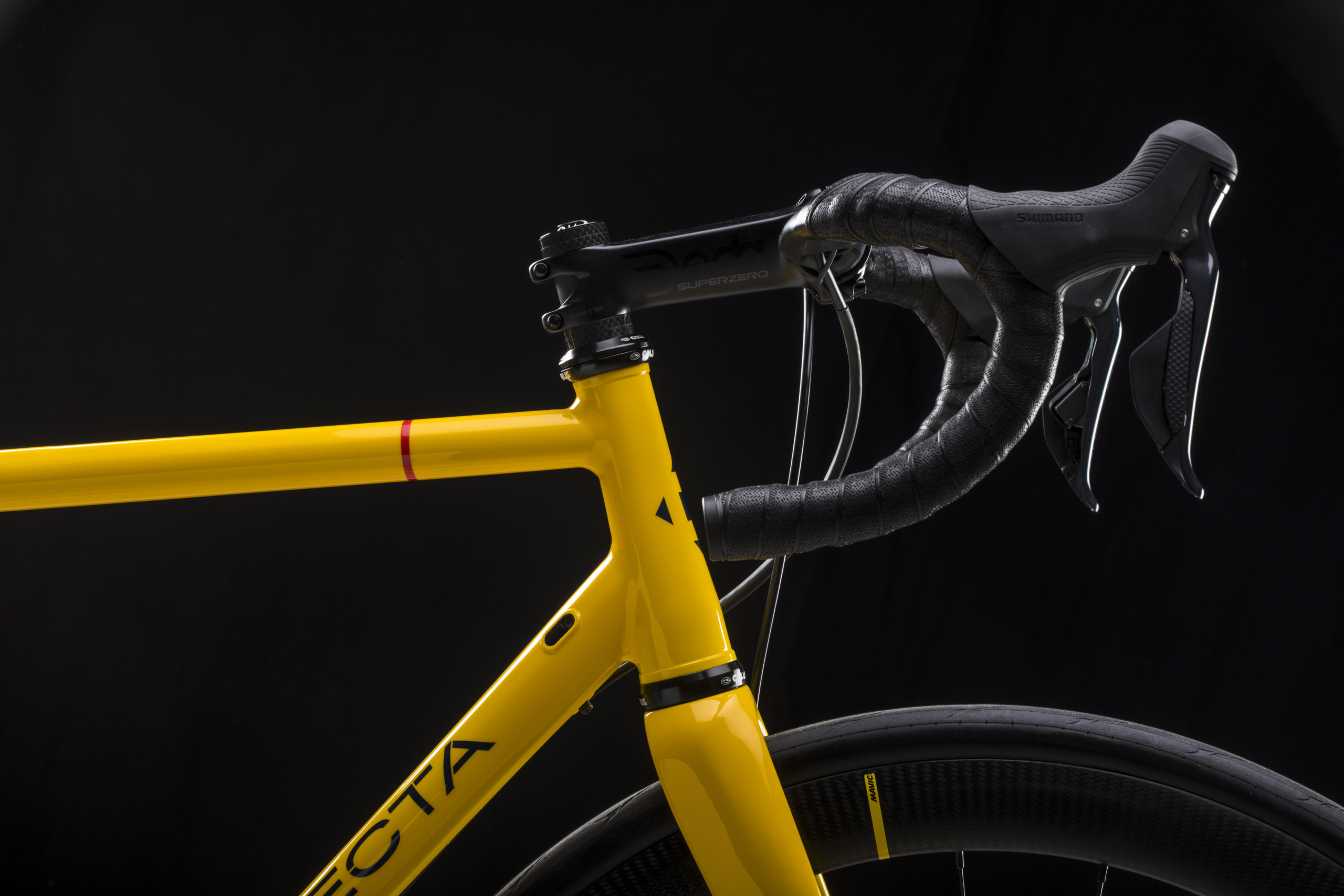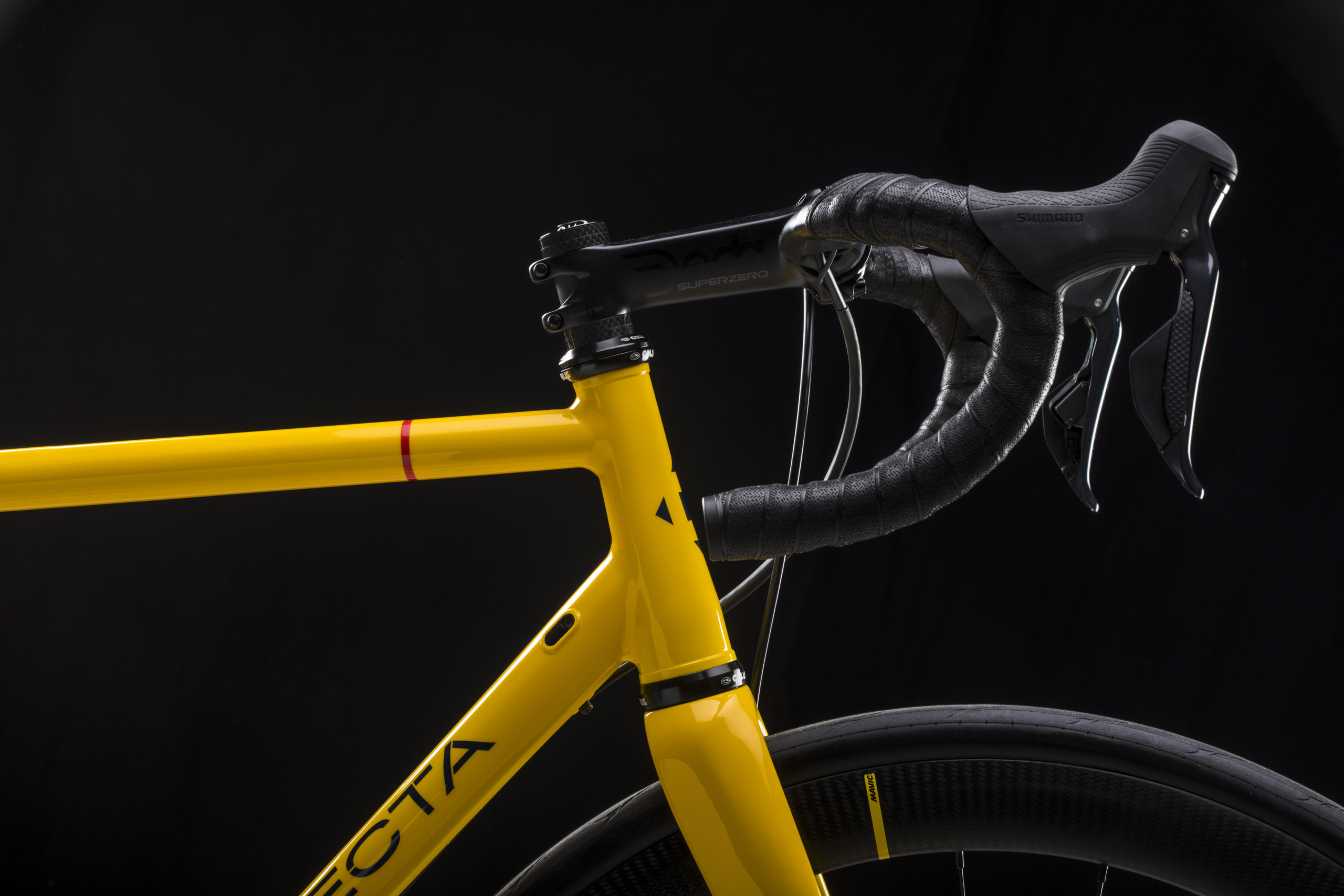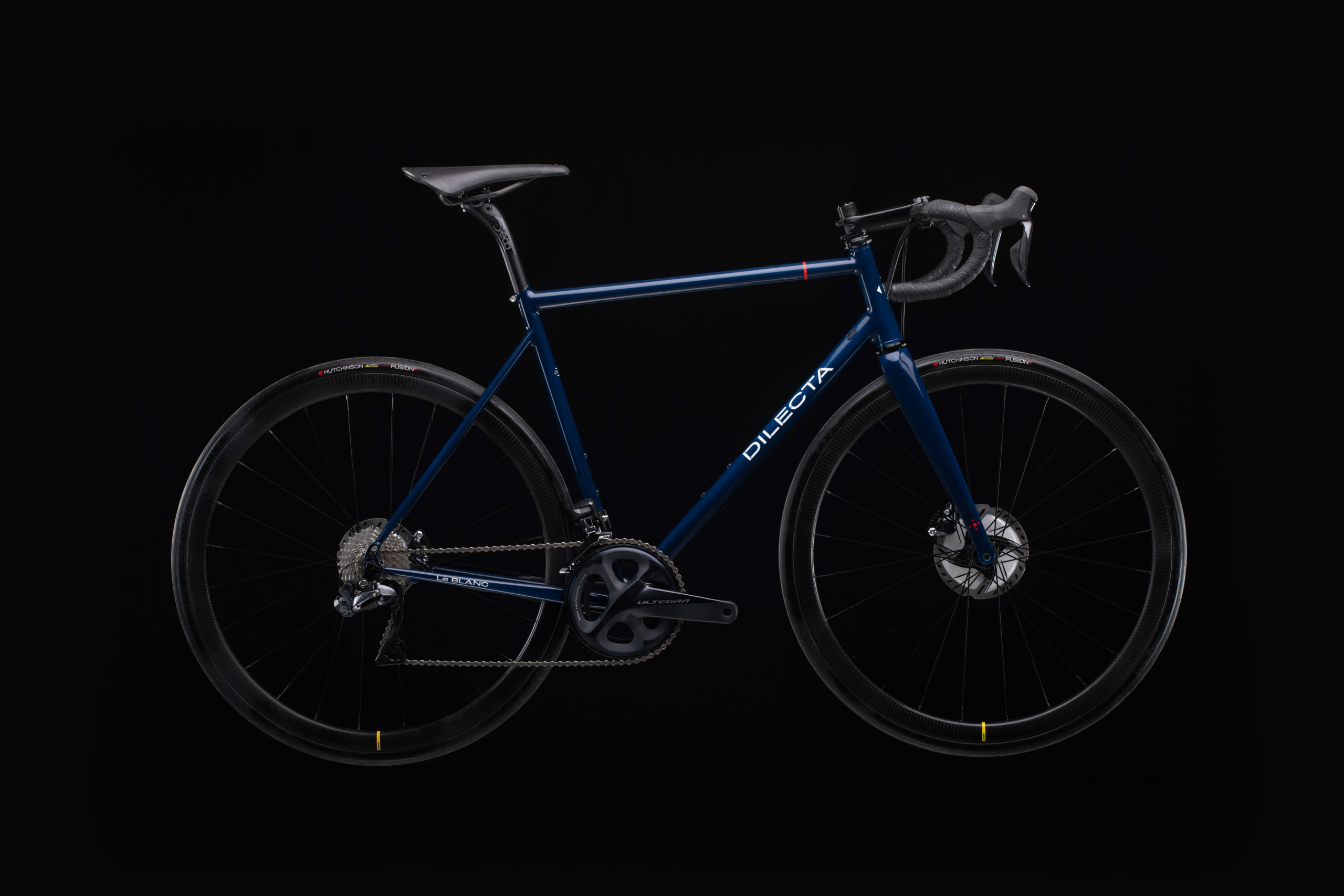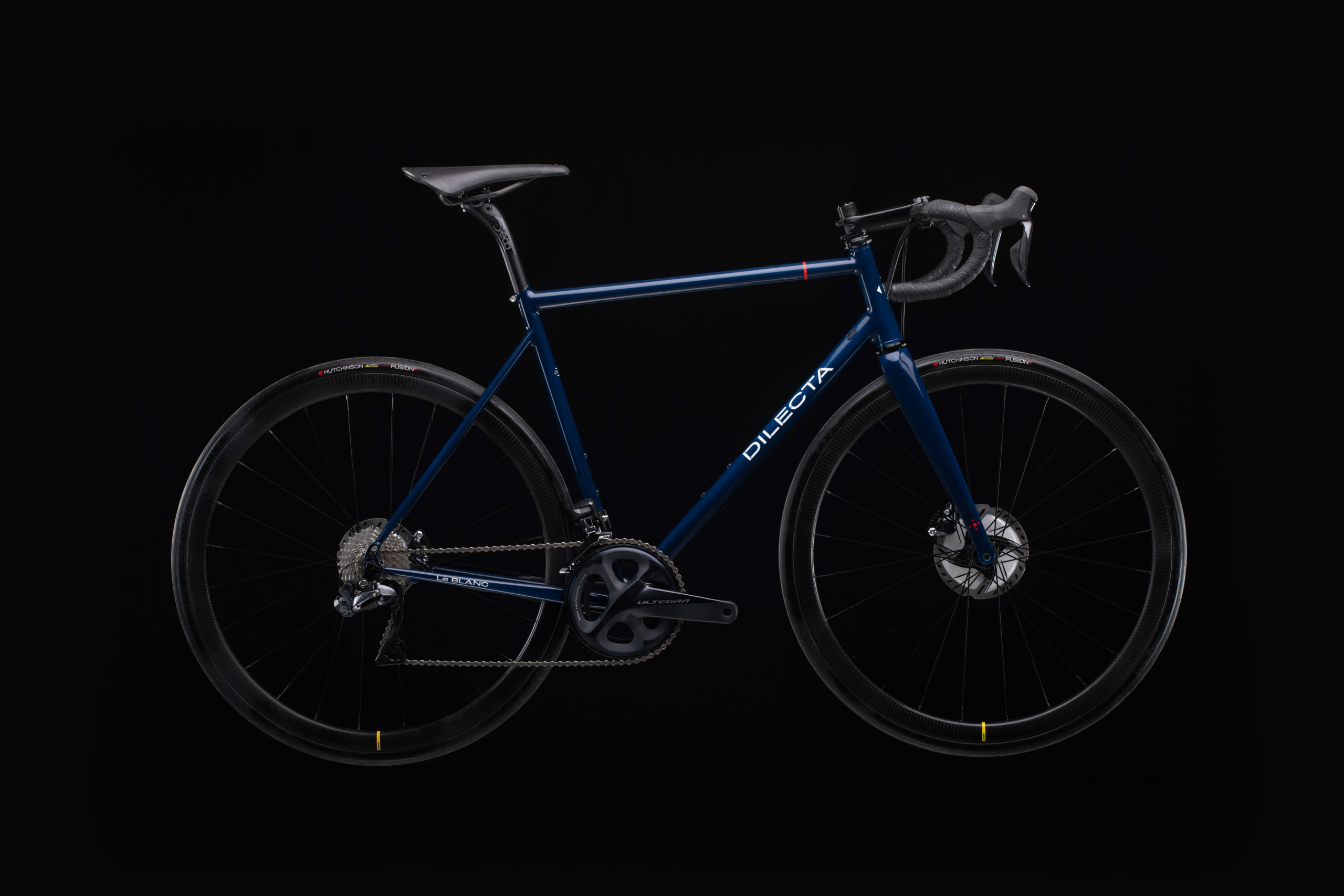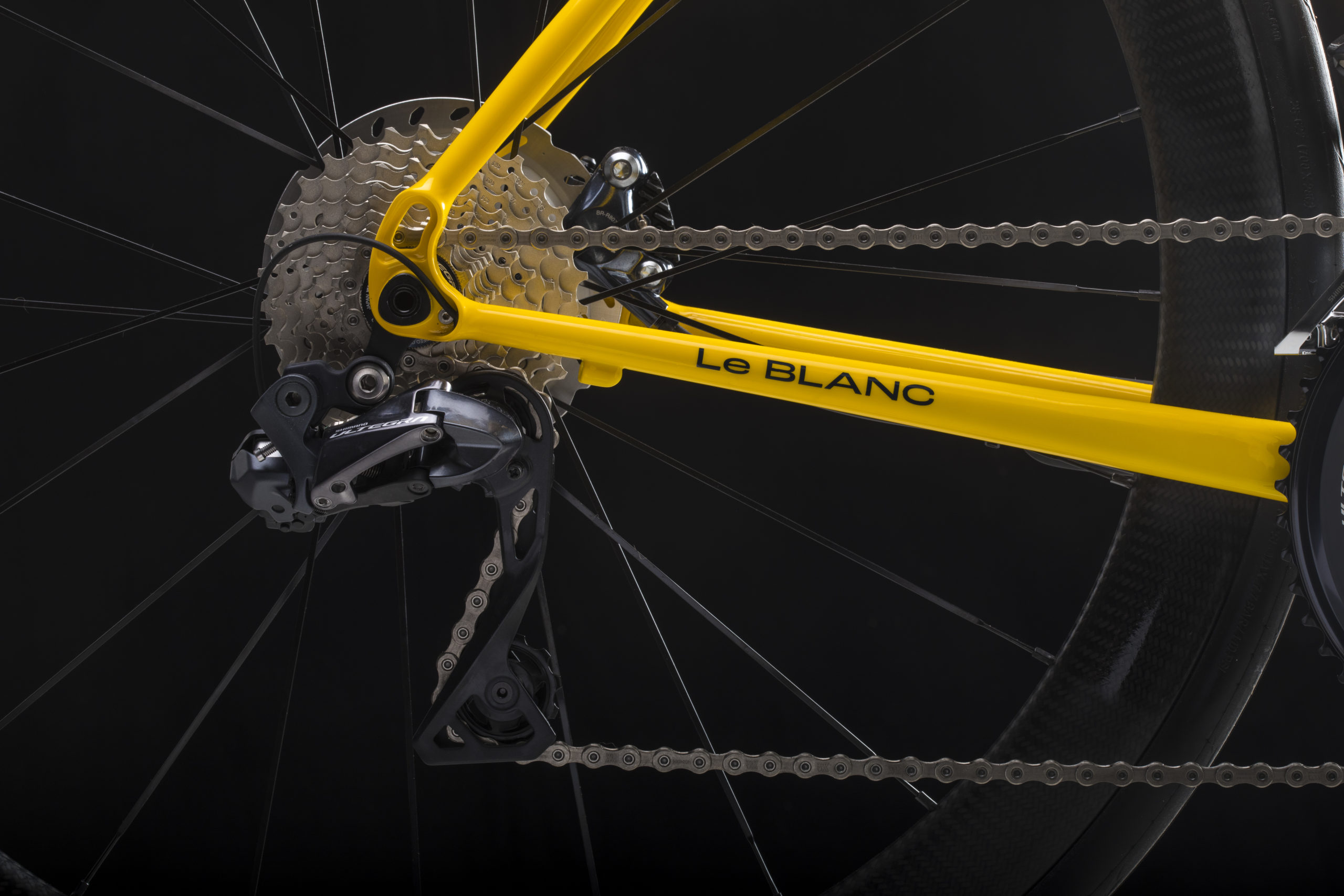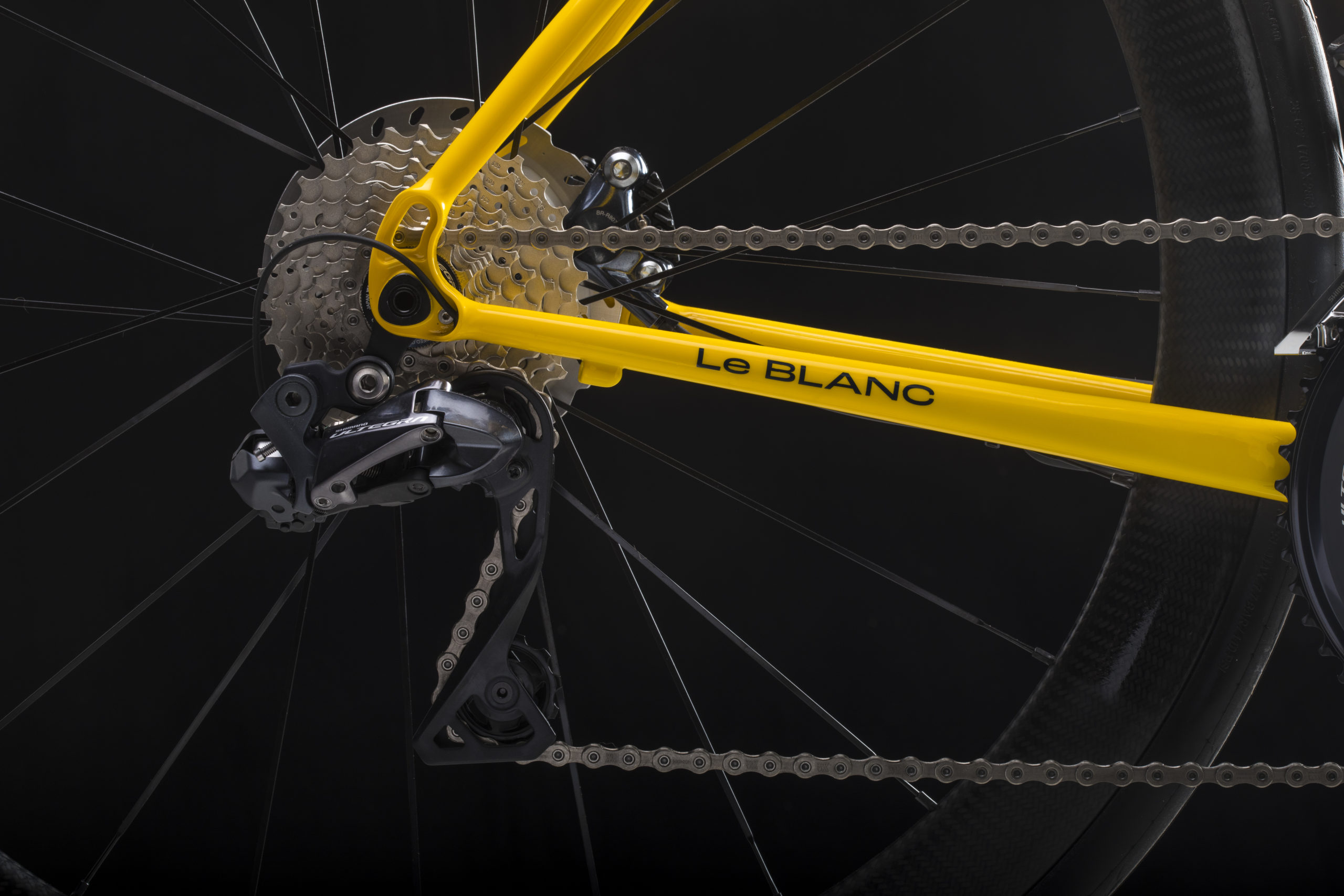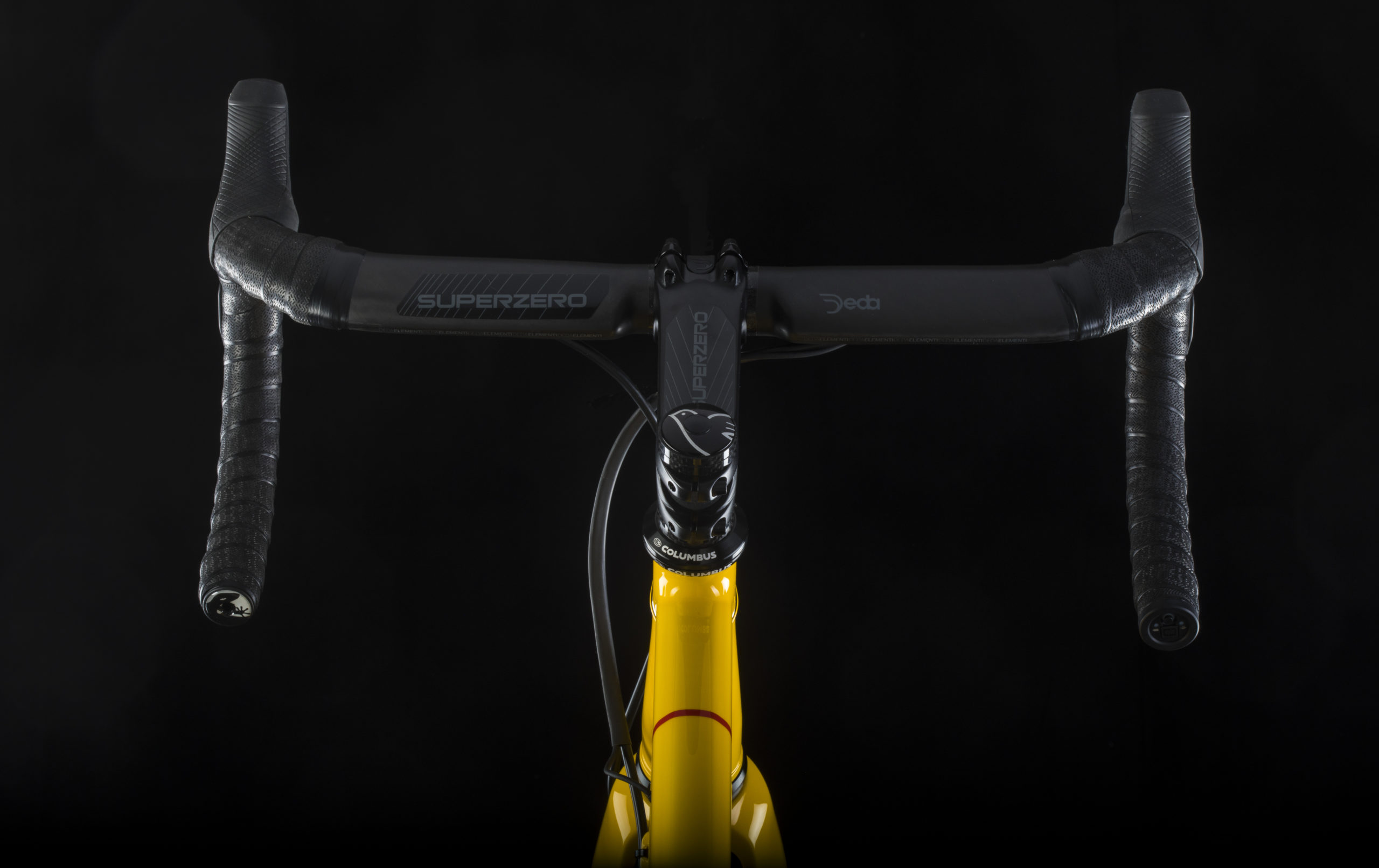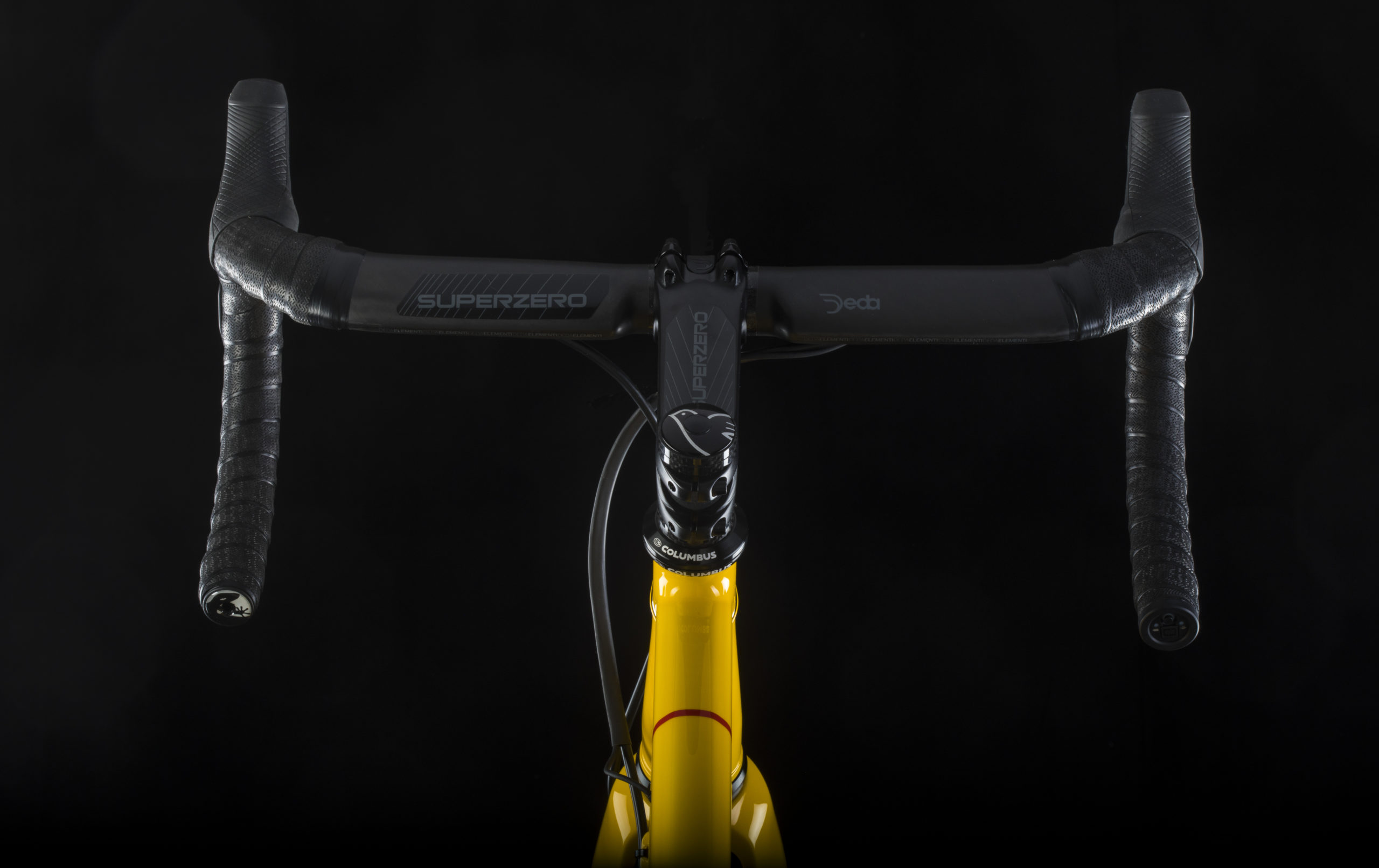 Our elegant road bike,
comfortable and enduring
An extension of our historical know-how, the Le BLANC model was imagined, developed, and designed to offer you optimal performance and comfort, however you ride.
Its elegance, clean and fluid lines give it an identity that is both chic and powerful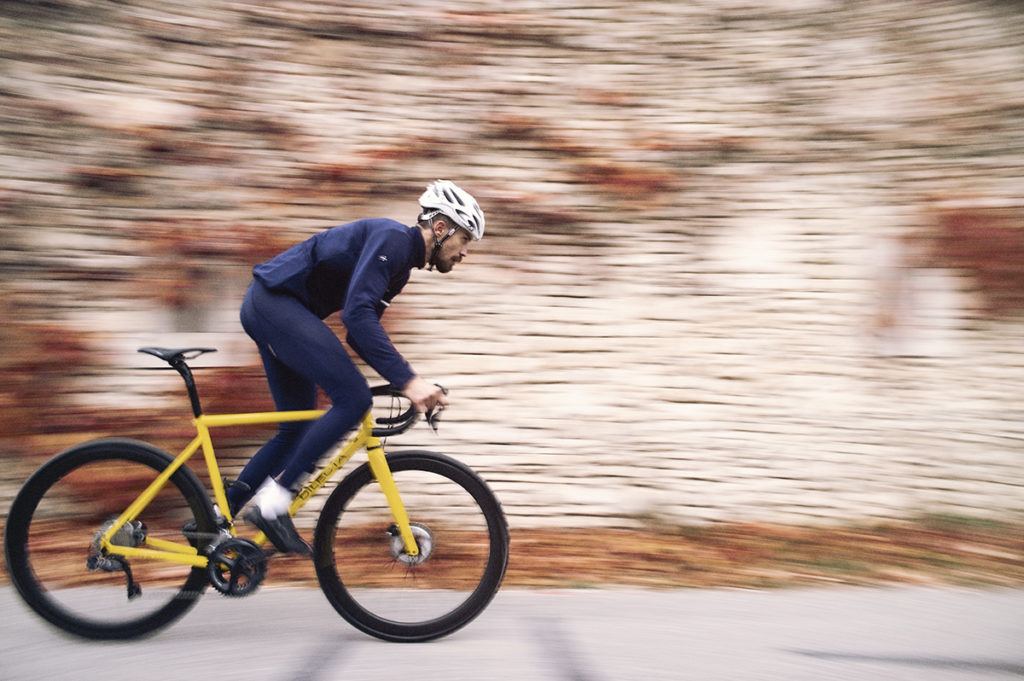 Ideal road bike
The Le BLANC is ideal for road and road endurance riders looking for a frame that is both comfortable for long distances and has the performance you need to accelerate and initiate jumps.
Columbus Spirit
We chose the high-end and lightweight steel series, Columbus Spirit HSS. This alloy blend, a mere 0.4mm thick in the thinnest areas, allows us to build a high performance and lightweight frame coupled with an endurance oriented DILECTA geometry, to ensure the perfect marriage between comfort and performance.
Its distinct design optimizes tube strength according to their orientation and the specific stresses of each zone, as well as safeguarding against torsional forces and fatigue.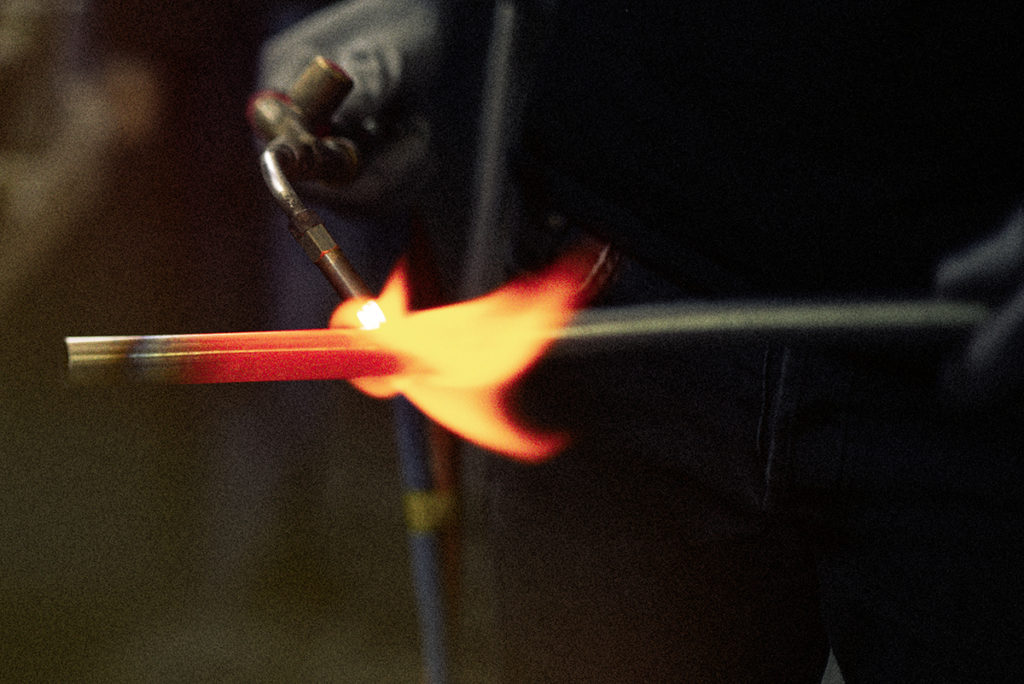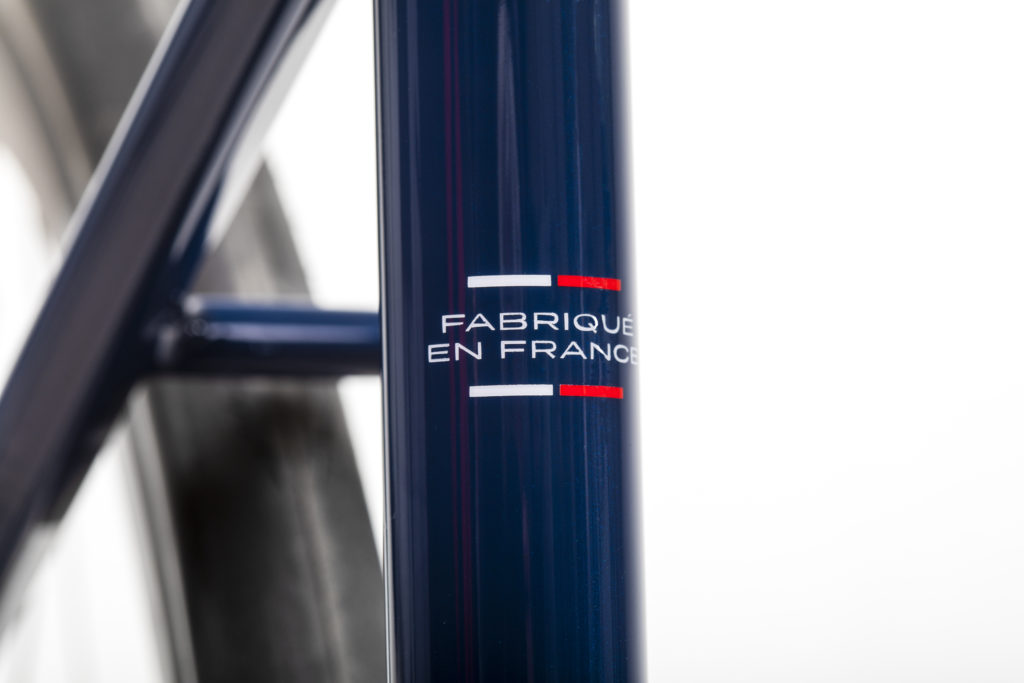 Imagined, created and designed in France
The quality of the craftsmanship is reflected in many details, geometry, finishes, polished welds without forgetting the particular care given to the painting.
Find out more : discover our savoir-faire.
The epitome of elegance
and French craftsmanship
at the service of your passion
The key points of the Le BLANC:
All the Le BLANC bicycles are made to order and numbered.
It takes over 20 hours to make a Le BLANC frame by hand.
The Colombus HSS Spirit steel frame is brazed and receives a cataphoric (anti-rust) treatment to ensure longevity.
Polished welds.
Disc version: 12x100mm and 12x142mm thru-axles with 140mm and 160mm discs
Flat mount brakes. Internally routed cables.
1-1/8" – 1-1/4" Columbus Futura Disc SLX carbon fork with a 45mm offset which accepts tires up to 30 mm in width.
BSA 68 threaded bottom bracket.
A meticulous and elegant paint finish, with the DILECTA logo on the fork, "Fabriqué en France" (Made in France) on the seat tube and a red band, signature of the brand, on the top tube.
The brazed seat clamp is painted for a uniform and sophisticated look.
16 colors to choose from via our configurator.
If you wish a specific color, we will discuss it with you (+300 €) and propose you a personalized alternative within the framework of our program DILECTA FLAMME ROUGE.
Frame weight : 1,7 kg (size M)
Fork weight : 450 gr
Photo gallery
Geometry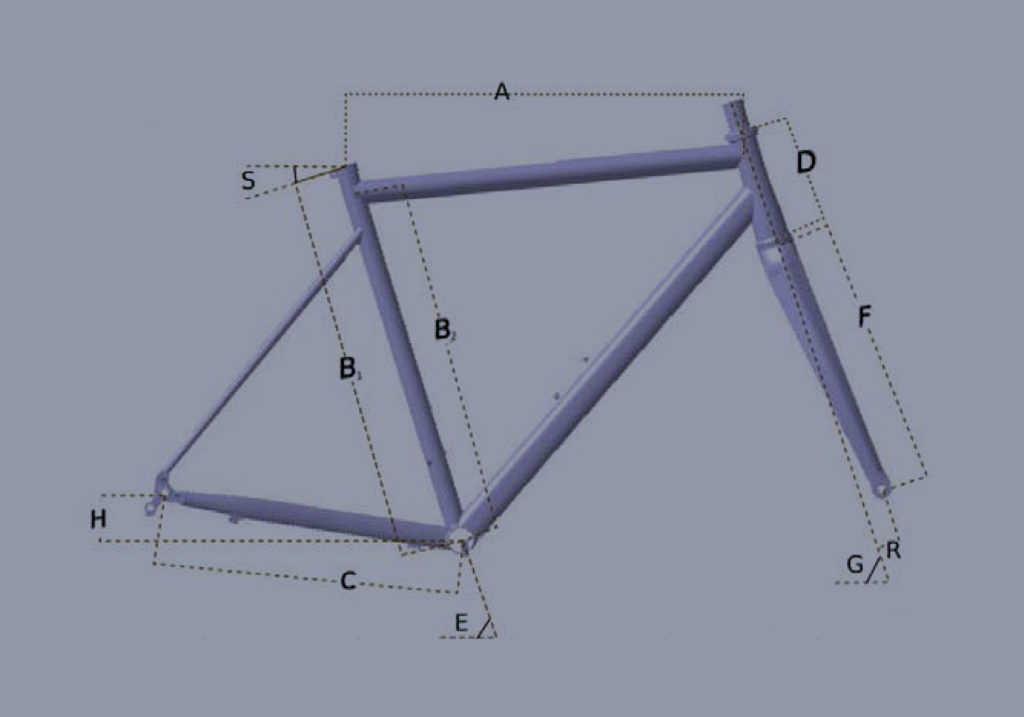 | | XS – 51cm | S – 54cm | M – 56cm | L – 58cm | XL – 61cm |
| --- | --- | --- | --- | --- | --- |
| A – Top Tube | 536,7mm | 550mm | 566mm | 580mm | 594mm |
| B1 – Seat tube | 510mm | 532mm | 545mm | 564mm | 583mm |
| B2 – Seat tube | 470mm | 492mm | 505mm | 524mm | 543mm |
| C – Chain Stay | 418mm | 418mm | 418mm | 418mm | 418mm |
| D – Head Tube | 120mm | 140mm | 150mm | 170mm | 190mm |
| E – Seat tube angle | 74° | 73,5° | 73° | 73° | 73° |
| F – Fork height | 368mm | 368mm | 368mm | 368mm | 368mm |
| G – Head tube angle | 72° | 72,5° | 73,5° | 73,5° | 73,5° |
| H – BB drop | 68mm | 68mm | 68mm | 68mm | 68mm |
| R – Fork rake | 45mm | 45mm | 45mm | 45mm | 45mm |
| S – Sloping | 5,7° | 5,3° | 5,3° | 5,3° | 5,2° |
| Reach | 384mm | 386,6mm | 394,2mm | 402,4mm | 410,5mm |
| Stack | 528,9mm | 549,7mm | 562,8mm | 581,8mm | 601mm |
| Wheel base | 993,5mm | 998,1mm | 1000,1mm | 1014mm | 1027,8mm |
Order your Le Blanc