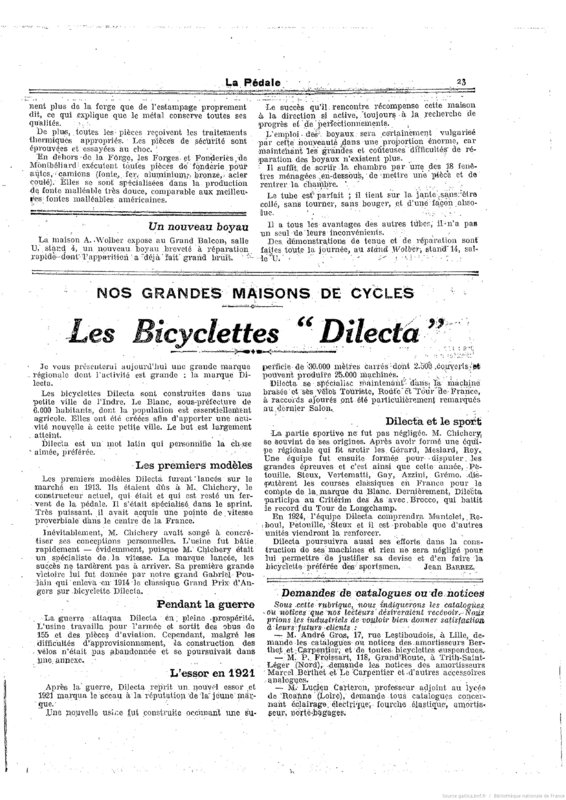 Legal
Notice
IMSC DILECTA
A simplified joint-stock company with share capital of €1000
Whose head office is located at 47 RUE BOURSAULT, 75017 PARIS, FRANCE
E-mail : legal@dilectacycles.com
Intra-EU VAT: FR3783894143300016
TRADE AND COMPANY REGISTER : 838 941 433 00016
The Director of the publication is:
Mr ERIC VANHAVERBEKE
Adresse : 47 RUE BOURSAULT, 75017 PARIS
E-mail : contact us
The website hosting https://www.dilectacycles.com is provided by OVH
Adresse : 2 rue Kellermann à Roubaix (59100)
Tel : +33 0 899 498 765

PERSONAL DATA
To learn more, visit our "Privacy" section at the bottom of our website.
INTELLECTUAL PROPERTY
All elements of the website, in particular all graphic, sound and textual elements, including the underlying technology and the presentation of products, are the exclusive property of IMSC DILECTA.
The Internet user is formally forbidden, consequently, to proceed to any reproduction, representation or diffusion, even partial, of any particular element being an integral part of the website.
All reproductions and representations of the https://www.dilectacycles.com website are subject to the express prior agreement of IMSC DILECTA.
Failure to comply with this obligation constitutes an infringement engaging the civil and criminal liability of its author.
Similarly, any process, in particular framing or deep-linking techniques, is strictly prohibited, unless expressly authorized in writing by IMSC DILECTA.
The name "DILECTA" has been registered as a trademark with the EUIPO (trademark n°018268170). Consequently, any unauthorized reproduction of this trademark by IMSC DILECTA constitutes an act of infringement liable to criminal and civil proceedings.
The Internet user is therefore forbidden to undermine the "DILECTA" brand. It is strictly forbidden to use or reproduce the name DILECTA, in any capacity whatsoever, and on any medium whatsoever, without the prior written consent of IMSC DILECTA.
IMSC DILECTA LIABILITY
The information communicated on the website is provided for information purposes only. IMSC DILECTA cannot be held responsible for it. They can be modified or updated without notice.
IMSC DILECTA shall not be held liable for any damage of any kind, whether direct or indirect, for any omission or error or for the inability of accessing the website.
HYPERTEXT LINKS
The creation of hypertext links to the website https://www.dilectacycles.com requires the express prior authorization of IMSC DILECTA.
This can be done by sending your request by e-mail to the following address:
E-mail : legal@dilectacycles.com
USE OF "COOKIES"
thefairsport.com uses "cookies" to optimize your use of the website.
To learn more, visit our "Privacy" section at the bottom of our website.