Unique products
that match you
Each product is handcrafted with high standards and passion in the purest artisanal tradition
Our modern manufacturing process employs the most elaborate materials and techniques to ensure a quality finish.
We manufacture in small series with attention to detail and perfection.
Each frame, each bike is numbered and unique.
Because you are unique in our eyes, you can pick your paint color, and add your name or initials to your frame if you wish. And if you choose a numbered DILECTA bicycle, we will keep you informed of each of the different stages of your frame's production and the assembly of your bike.
Unique artisanal manufacturing
« Made in France »
We select the best materials in each category with their own mechanical characteristics. Whether it is a steel alloy for our Le BLANC or Forcat models, or those of tomorrow in carbon fiber, they are associated with traditional manufacturing techniques that guarantee comfort, efficiency, durability and lightness without neglecting performance.
We have chosen a high-end steel from the famous Italian brand Colombus, the SPIRIT HSS, that is very thin, light, extremely comfortable, never sacrifices on performance, and offers multiple customization options. The choice of internally or externally routed cables or not is yours, and both rim and disc brake models are available.
The frame
manufacturing process
Each tube that makes up your frame is first machined according to its geometry.
We make our cuts with extreme precision, a tolerance to the tenth of a millimeter on a gauging device. Then we weld the tubes together through a technique that adds metal at its melting temperature to solidify and consolidate the frame during this first stage.
The frame then proceeds to the building jig which allows us to control the exact alignment of the tubes.
The builder then performs the final welding of the tubes following a specific sequence that ensures consistency and the frame's dimensional stability.
Victor and Damien, Cyfac workshop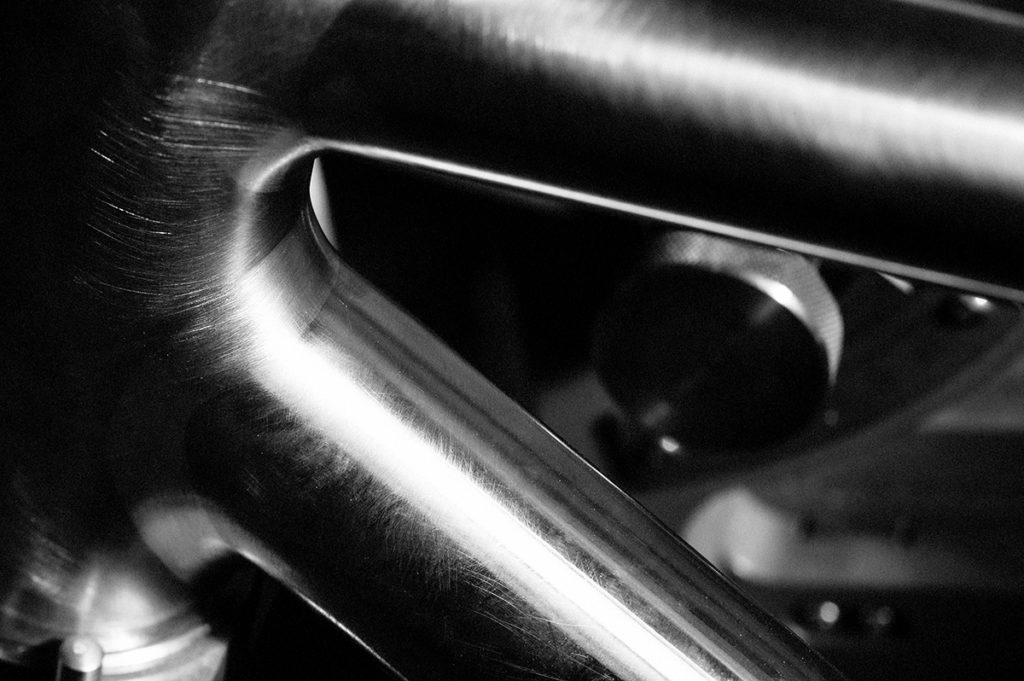 All weld seams on a frame are manually polished
All weld seams on a frame are manually polished. This step, which requires more than 4 hours of work per frame, eliminates the phenomenon of stress concentration. When the seams are perfectly polished, the stress diffuses evenly and the frame becomes more solid and efficient.
Once your frame is welded, we submerge it in a cataphoresis bath for 3 hours to guarantee the anti-corrosion treatment.
The entire surface of the piece is treated, including the hollow sections, concealed parts and sharp edges as well. The homogeneity of the layer provides outstanding corrosion resistance and an excellent bonding layer for a primer which follows.
We offer you a palette of colors to choose from
16 different hues, that you can discover and test on our color configurator, are at your disposal for each of our models
We use ecological paints which do not require the use of  chemical solvents. They respect the environment and the health of our artisans and offer a unique and precise finish.
Find out more